Better late than never, I'm joining the Barks and Bytes blog hop today.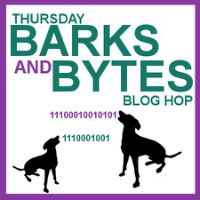 I like this hop because you can either post about dog-related stuff (the Barks) or not (the Bytes). So, today I have a little of both.
The Barks: Rita "Helps" Make the Bed
I was changing the sheets on the bed in the guest room the other day and thinking how I missed Abby, because she would ALWAYS leap up on the bed and get in my way when I tried to make it. (She was such a mischievous little beastie!)
And then, of course, this happened:
A furry beast lands on the bed
Rita usually stays out of the way when I'm making the guest bed because it's quite high up off the ground (our low-to-the-ground bed is another story, and she's a good excuse to not make it!). But she must have sensed I needed a laugh, so was happy to provide one.
Can you always count on your pup for a smile when you need one?
The Bytes: A Surprising Thing
Remember when I had my sale for Rescue Me, Maybe a couple of weeks ago and I posted that I was excited to hit No. 1 in the Dogs list for Amazon Kindle sales?
Well, a few days later, I found the hubs looking through the USA Today Bestseller list for my name. I said, "Silly boy" thinking "no way." But then... I started combing through there myself. And I was on there!
Not super high up at #130, but hey... I hit the USA Today Bestseller list! Just below Tom Clancy! How crazy is that?
Now, I thought there was an unwritten rule that you couldn't refer to yourself as a bestselling author unless you hit the top 10 on a list - but after an interesting phone conversation yesterday (that I'll hopefully be able to tell you more about soon), apparently I oughta be proudly declaring that I hit the list. So, here I am. Declaring. Woot.
Thanks for reading, and thanks to Heart Like a Dog and 2 Brown Dawgs for hosting Barks and Bytes!