Rise & Shine K9 Kampers* - It's Time for K9 Kamp!
If you've been following the blog for a while, you probably remember last spring when Rita and I joined in the fun of K9 Kamp, with 4 weeks of fitness challenges sponsored by Koly of
Kol's Notes
and Kelly of
Peggy's Pet Place
.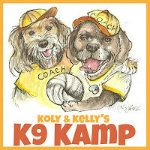 We were so honored last year to receive two awards (Gopher Wrestling Champions**
and
the Beach Babes Award!), not to mention we won swag! This time, you can win swag too! Fun, right? Read on!