Rise & Shine K9 Kampers* - It's Time for K9 Kamp!
If you've been following the blog for a while, you probably remember last spring when Rita and I joined in the fun of K9 Kamp, with 4 weeks of fitness challenges sponsored by Koly of
Kol's Notes
and Kelly of
Peggy's Pet Place
.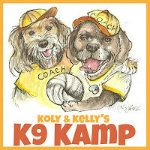 We were so honored last year to receive two awards (Gopher Wrestling Champions**
and
the Beach Babes Award!), not to mention we won swag! This time, you can win swag too! Fun, right? Read on!
This year K9 Kamp works a little differently. Instead of just being one month long, K9 Kamp will be on-going. A new fitness suggestion for you and your pup will be presented once per quarter. It's no longer about a crazy "challenge" that you try for a week and then forget. It's about making a day in, day out commitment to keeping your dog in shape.
Another difference this year is that there will be featured bloggers participating, and Rita and I were thrilled to be asked to join in!
What is K9 Kamp??
If you're new to K9 Kamp, let me 'splain. Let's start with what it's not: K9 Kamp is not sleep-away camp. There's no need to pack, and you don't have to sew your name into your underwear or stock up on bug repellant. (Well, unless you live somewhere bug-y.) There will be no Kamp songs. (Unless Koly comes up with one - which he might. He's clever that way.) There will definitely be no ghost stories, and no one will dip your paw in cold water while you sleep.
Here's what K9 Kamp is: it's a way to spread the word about keeping your pup in shape and fighting pet obesity. K9 Kamp will suggest ways you can work to the best of you and your pup's ability to keep fit.
How I Keep Rita Fit
It's pretty simple, really: walking. Lots of walking! Rita is young (~2) and healthy and has a good bit of energy, so lots of long walks are perfect for her. As for me, I'm not young (sigh) but I'm (relatively) healthy and have a small bit of energy (as long as I'm properly fed and caffeinated) so walking works for me too. Used to run with the other pups, but my ankles and feet protest now when I try that so we just walk. Luckily we have a fabulous, huge off-leash park/beach where Rita can dip in the water and stay cool.
This is just one small stretch of beach at the park.
The other day, the hubs asked me how many miles I figure I walk per week. I had to do some math... and figured that generally we walk 45 - 60 min. each morning at ~15 min. mile pace (we walk pretty fast, and I factored in time for Rita sniffing). So that's 3-4 miles every day, times 7 days = 21 - 28 miles/week. Often we also go for at least another 20 minute walk at night with the Daddy, so that adds a few more miles per week. (Although those are on hold right now cuz of
the hub's stem cell procedure on this knee
.)
All in, we figure Rita and I are walking a marathon a week! Rita's not really into fetching, and, as I said, I can't run much anymore, and hiking at this time of year is too hot for Rita, so we walk. And walk. And walk. Three times/week we meet up with friends at the beach, and when we walk at home, we have tons of different routes we take so we don't get bored.
What about you? What do you do to keep your pup fit?
But wait... there's more!
In addition to getting fit via K9 Kamp, you can win swag! There will be prizes for participating, with an exciting package of leashes, toys and more worth over $200!
Stay tuned and be sure to check out
Kol's Notes
and
Peggy's Pet Place
to find out what your assignment is and to learn more!
FitDog Friday
Obviously, K9 Kamp is a perfect pairing with FitDog Friday, so that's why you'll find Koli & Kelly and all of the other featured bloggers hopping along and sharing how we work at keeping our pets fit. (BTW... speaking of FitDog Friday, if you had the
Slim Doggy App
on your smart phone, you wouldn't have to estimate and do math like I did above. The app would tell you how many miles you walked. Cool, eh? But I have a dumb phone, so I have to do math.)
* Recognize this? It's from Groundhog Day.
** Hopefully this award will be retired this year. We don't want to be repeat winners (it wasn't that much fun the first time around), and we don't want anyone else to experience. (Well, the pups probably want to, but not the mommas.)